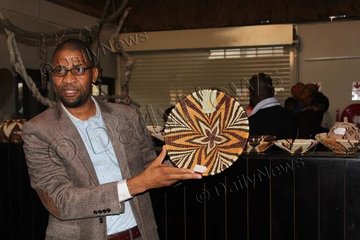 This year, she said, the competitions registered a total of 137 participants in 2014 and 140 this year. "The significance of this growth in the programme uptake is a clear demonstration of the appreciation of the value of the art and crafts to the lives of our people," she said. Chezuba recognised Josephine Masiziane and Julia Kwele who got position one at the final competitions for traditional pottery and dressmaking respectively.
She urged local artists to take advantage of the platform to launch their businesses and access potential markets for their products and services both locally and abroad. Chezuba added that the presidential directive on procurement of arts and crafts by government departments came as a blessing to visual artists. "There is no doubt that those arts and crafts products have benefitted enormously from the directive," she noted.
In the closed basket category, Esther Matengu from Parakarungu scooped position one winning P2 000 while Nakwezi Sikume won position one for the open basket category. In pottery, Annet and Esther Masiziane scooped position one and two respectively. Pauline Ndana won position one in the jewelry category while Caroline Shamuka was the sole winner for the bead work category.Ministry of Youth, Sport and Culture district coordinator, Pako Sikuku said he was happy that young people were taking part in the competitions.
"That is very promising unlike the Seperu dance where mostly old people are the ones showing interest which means the dance might go extinct when these people pass on," he noted. He encouraged artists to look into mass production and tap into the international markets.