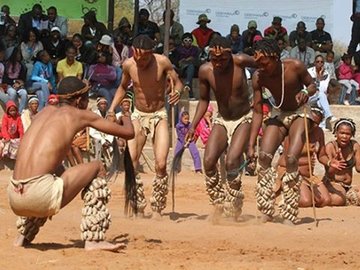 Speaking at the event launch recently, Kuru Dance Festival patron, Former Vice President Dr Ponatshego Kedikilwe said it was a pleasure to be associated with the festival because it was good initiative that aims to revive culture. He stated that cultural activities should be promoted to the younger generation so that the children were educated in the process.
Dr Kedikilwe noted that culture is diverse which he said makes the country proud as every culture is celebrated. He said events such as the Kuru Dance Festival offer opportunities to the community as it is used as an income generator during the days of the festival.
Kuru Development Trust chairperson Arone Johannes stated that they have invited 15 groups from across the country who will be participating at the festival. The chairperson concurred that the festival is meant to spread and preserve the San culture so that future generations find it. "Culture is our legacy and we should not let it disappear because Kuru Dance Festival is what we identify ourselves with." He stated that the festival is not a competition but a cultural exposé where people get to experience and mingle with each other.
Barclays Bank Botswana managing director (MD), Reinette van der Merwe said their support will assist the festival to become the best in Southern Africa. She stated that her bank realises that dance is a culture for the San people hence wanted to be associated with an event that is embraced by people in the Kgalagadi area.