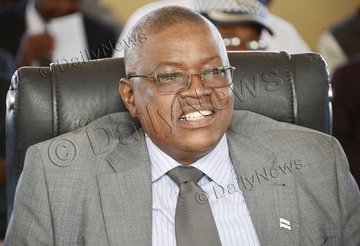 He said ESP was adopted by the government in 2015 as a strategy for job creation and a response to the declining economic growth. He informed Kgatleng councillors that the objectives of the programme were to stimulate and diversify the economy as well as to accelerate job creation.
He said the government would use its savings to boost economic growth through accelerated implementation of projects while creating jobs and employment opportunities through enhanced private sector participation across the country.
The Vice President said as the economic recession continues, it brings with it other challenges such as unemployment mostly among young graduates.
"The government then decided to take a decision to create employment, and that was how ESP was born," said Mr Masisi.
He said the programme would run for three years beginning in the 2016/17 financial, and applauded Batswana who have shown interest by applying for different jobs across the country.
Mr Masisi added that the government has identified areas of growth and listed them as the development and maintenance of infrastructure, agriculture and tourism development, manufacturing and services and re-skilling of youth.
He said the bulk of the implementation would start during the 2016/17 financial year through to the 2018/19 financial year. He added that identified projects from NDP 10 have been approved by cabinet.
He said the government would change what needs to be changed for effective delivery of public services, adding that they have engaged the private sector who would be responsible for supervising the programme.
The Vice President said the programme calls for implementing entities to ensure that benefits of ESP were realised by citizens of the country.
He added that Kgatleng District, like other districts, has projects which would be done during the running of the programme.
Among projects earmarked for Kgatleng, Mr Masisi said, was the development of Lenao la ga Matsieng to a tourism site of repute, construction of the Modipane/Mabalane road, maintenance of Bakgatle Junior Secondary School, land servicing of Bokaa, Morwa and Pilane and construction of 13 classrooms and eight teachers houses at Segale Primary School.
He called on councillors to ensure that they implement the economic diversification drive and local empowerment programme to Batswana's benefit.
Kgatleng District Council chairperson, Mr Mpho Morolong thanked the Vice President for his time and informing them about the ESP programme, adding that they were happy about the projects that would be done in Kgatleng.
However, Mr Morolong said they assumed that there would be consultation about the programme before its implementation so that they could prioritise projects that they need most in the district