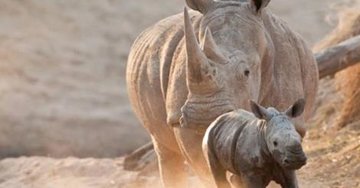 Special guests including the Hon. Minister Tshekedi Khama of the Botswana Ministry of Environment, Wildlife and Tourism, legendary activist Gloria Steinem, actress Uma Thurman, and model Coco Rocha with husband James Conran attended in support of rhino conservation.'Tlhokomela' means 'to protect' in Setswana, reflecting the trust's mission to perpetuate and expand Botswana's vast and pristine wilderness areas and protect critically endangered rhino and other species.
The Thlokomela Trust was created to act as a facilitating body for conservation activities taking place in Botswana with a special focus on fund-raising initiatives, both domestic and global, which will ensure the long term sustainability of Botswana's wilderness and endangered wildlife.The Trust recognizes and takes responsibility for the important role Botswana plays in the conservation of white and black rhino and has developed a long term vision for the protection of Botswana's growing rhino population.
Support of the Tlhokomela Trust is part of Forevermark's ongoing commitment to protect the diversity of the natural world in which it operates. For every acre of land used for mining De Beers diamonds, five acres are dedicated to the conservation of nature, building thriving ecosystems with healthy populations of native wild animals and plants.Active in rhino conservation since the 1970s, the De Beers Group of Companies supports the Government of Botswana's progressive conservation program. Debswana, a joint venture partnership, currently supports approximately 50 per cent of Botswana's white rhino population. The Debswana rhino conservation project aims to grow and improve the genetic diversity of the rhino population before relocation back into the natural habitat.
Both the Orapa Game Park and Jwana Game Park, which surround Debswana's Orapa and Jwaneng Mines, are home to several thousand animals, including, giraffe, zebra, baboon, cheetah, leopard and many other animal species.The Jwana Game park spans more than 40,000 acres of protected land, while the Orapa Game park currently consists of 30,000 acres with plans to expand to more than 100,000 acres.