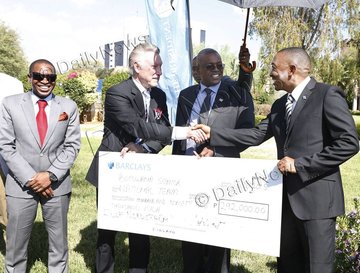 Speaking at the donation event in Gaborone yesterday (October 15), the Vice President, Mokgweetsi Masisi, said the donation was timely because the Zebras were involved in both the FIFA World Cup and AFCON qualifiers. He said the donation would boost morale of the players ahead of the crucial games, adding that he was aware that Professor Nordstrom had a passion for sport.
"Allow me to proudly inform you and congratulate the Zebras on their success confirmed by their 3-1 win over the Eritrea" he said.
The Vice President further said the donation would be used for the intended purpose.
Masisi commended Professor Nordstrom for what he did for Botswana in Finland since he was appointed the Honorary Consul in 2010, and for being the country's true friend. Furthermore, the Vice President said Nordstrom's spirit of volunteerism had ensured that Botswana's long standing relations with Finland dating back to an early years of independence, were sustained for posterity and for mutual benefit of their compatriots.
On other issues Masisi said he was also aware that Nordstrom's visit was also intended to explore investment opportunities in Botswana. "As our Honorary Consul, I am confident that you are aware that Botswana has put a lot of prominence on attracting foreign direct investment as a way to diversify the economy, which is currently mineral-led" he said.
Minister of Youth, Sport and Culture, Thapelo Olopeng, said he was confident that the donation would not only contribute to the development of Botswana football but will also encourage the children at the SOS Village to participate in sport.
He said Botswana sport had come of age, therefore the national teams and athletes had become more competitive, adding that they had achieved this with the commitment and support of government. However, Olopeng said Botswana was still a developing nation that needed technical and material support to continue to improve and financial support was critical for addressing different areas of need. Sport, he said, had the power to develop children into responsible citizens who were well grounded in ethical conduct, good behaviour and spirit of fair competition.
"Furthermore, participation in sport will improve their physical fitness and wellness. It is therefore important for as many children as possible to participate in sport" he said. Nordstrom, who is a leading plastic surgeon in the world, congratulated the Zebras for their victory against Eritrea. He said Botswana and Finland had a lot in common and last week he organised business meeting in Finland for Botswana because the two countries could share good ideas.
"We can also learn from one another and do business together, you have the best wildlife and beef, while Finland has technology" he said. (BOPA)