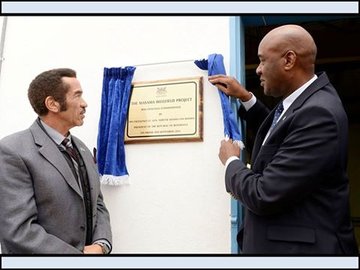 With the development of the fields, President Khama said an additional 20 million litres of water would become available on a daily basis to supplement the 60 million coming through the North South Carrier (NSC) scheme to alleviate water shortage. President Khama further said the government was committed to address water provision in the country to meet the needs of residents. President Khama also noted that due to the growing domestic demand and the adverse climatic conditions exacerbated by global warming, there was a likelihood that the country could continue experiencing water scarcity if it does not rain. "The rain is not brought by the government, but if it rains, the government will harvest and take water to the people," said President Khama.
He added that the government has put measures in place to mitigate future challenges through the National Water Master Plan which was finalised in 1990 as a long-term roadmap for the management and supply of water nationwide. He noted that the delivery of the master plan began in 1992 through the implementation of phase one of the carrier project which included the construction of the Letsibogo Dam and a 360 kilometres pipeline to the Mmamashia waterworks and associated infrastructure in Mahalapye and Palapye.
President Khama also noted that in 2006 a revised action plan was developed based on an integrated approach to achieve water security by tapping into ground water supplies and promoting conservation. "The government's determination to prioritise water security was further demonstrated by the fact that, notwithstanding the global economic downturn of 2008, we prioritised the construction of the Dikgatlhong, Lotsane and Thune dams along with the first 150km of the NSC2 pipeline up to Palapye."
He said they recognised the potential of wellfields such as the Masama/Makhujwane to mitigate against the current failure of the Gaborone Dam. President Khama said the government was finding ways of utilising additional sources of water to enhance delivery systems. He added that the government has invested P300 million to fast track the replacement of 26 km of pipeline of the North South Carrier geared at minimising breakdowns that contributed to recent shortfalls.
In addition, he said expenditure on the North South Carrier project two and associated works needed to secure the greater Gaborone water supply was expected to exceed P12 billion.President Khama also urged users of potable water to reduce wasteful use and to recycle and collect rainwater.
Giving an overview of the project, the Minister of Minerals, Energy and Water Resources, Mr Kitso Mokaila said the wellfields comprise of 32 boreholes 22 of which were in Masama and 10 in Makhujwane. He said the total cost of the project was P340 million and that it took 19 months to complete. He noted that the wellfields were developed as part of a conjunctive water supply scheme to augment demand in greater Gaborone up to year 2025.