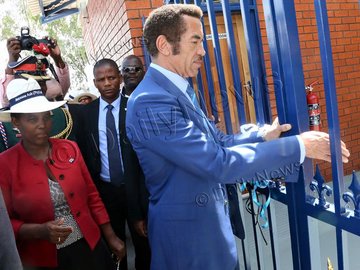 Regarding the handing over of 10 zebras that Morupule Mine donated to BOTASH, Lt Gen. Dr Khama said the mine did well to preserve wildlife. He encouraged the mine to introduce other species as part of its efforts to re-introduce species that were endangered in the vicinity.
BOTASH managing director, Mr Montwedi Mphathi, commended government for its plan to set up a number of Special Economic Zones (SEZ). Mr Mphathi called for the addition of Sowa in the list of SEZs and designate it a strategic economic zone for chemical manufacturing in order to take advantage of the sodium resource in the pans. He noted that the key enabler of the SEZ would be provision of adequate water supply through development of Mosetse Dam and a fibre connection to the national fibre backbone that passed Sowa just 20 kilometres away along the A3 road.
Mr Mphathi noted that Sowa had been somewhat been neglected and had grown slowly, hence facilities such as the primary hospital, magistrate court and banking facilities finding found homes in the surrounding villages instead of the town. He said the town, however, with its modern facilities, had potential to be a regional service centre for the surrounding villages and he assured the President that BOTASH mine would continue to work with the council to facilitate the increase in economic activity to ensure growth of the town. Mr Mphathi said by bringing back the wildlife species that used to be indigenous to the area, the mine hoped to encourage investment in tourism to complement its mining activities and create sustainable job opportunities.
In his welcome remarks, Sowa Customary Court president, Mr Bond Mabalane said Nxakato was faced with challenges of shortage of classrooms, hostels and teachers' houses. He said the school was initially a six stream school but was later increased to a 12 stream despite the shortage of facilities.
Kgosi Mabalane said they were hoping that, through the Economic Stimulus Programme, the shortage of offices for government departments would be addressed but unfortunately there was nothing for Sowa in the programme.
Meanwhile, the guidance and counselling centre, which was also furnished, was built at the tune of P750 000 while the science laboratory cost P3.5 million.