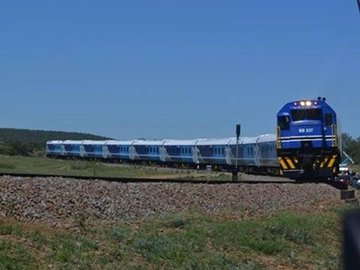 Mr Makuke said Government accepted the recommendation for the re-instatement of the train after the public outcry. He however explained that the company had challenges, which resulted in the project not being delivered by December last year as expected.
Amongst those who came to witness this historic event was Mr Bakang Moditsane who said he was happy that the train was back and wished to board it. Mr Moditsane said the train would also help minimise road accidents and hoped that Batswana would use it during public holidays to curb congestion and theft at bus stations.
Sharing the same sentiments Mr Kgosi Molapisi, said he was also happy about the government's decision to reinstate the train. Mr Molapisi said the train looked comfortable to travel in, adding that soon he would take out his family on a joy ride.
For his part, Mahalapye Senior Subordinate Tribal Authority, Kgosi Duncan Segotsi called on Batswana to take care of the train by keeping it clean. The train would provide service between Francistown and Lobatse. It is envisaged that the stop-over stations will be Francistown, Serule, Palapye, Mahalapye, Gaborone and Lobatse. (BOPA)