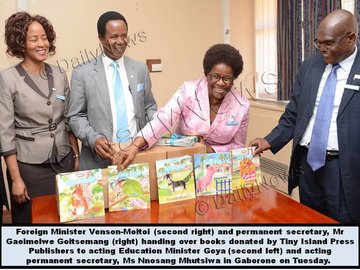 Government, she said, has prioritised education with the focus on both qualitative and quantitative improvement. "I therefore wish to convey our sincere appreciation to the management of Tiny Islands Press for their generosity in donating the books." She noted that the United Nations Millennium Development Goals call for universal education by 2015, further underscoring the extension of primary access with particular emphasis on an increase in the literacy rate among the youth.
The minister noted that the donation would augment ongoing efforts to advance Botswana's programmes for improving students reading skills by increasing the use of appropriate age reading materials. "Availing primary school libraries with the latest child publications as well as getting parents to develop an interest in reading those books to their children will help us achieve our target of an educated and informed nation through the provision of quality basic education," said Dr Venson-Moitoi. She stated that her ministry would continue to seek assistance from their development partners so as to enhance the country's developmental efforts.
Minister Venson-Moitoi appealed to the ministry to ensure the expeditious distribution of the books to identified recipients.
The acting Minister of Education and Skills Development, the Honourble Moiseraela Goya said the donation came at an appropriate time when MDG's were culminating and ushering in Sustainable Development Goals (SDG). He said their focus on SDG's was on pillar four of promoting education from grassroots and beyond tertiary. He said the books would be used by Standard Two's and Three's hence promoting effective reading, which was key in literacy.
The acting minister noted that reading builds confidence and fluency, emphasising the importance of building on it as a nation to enable children to grow with it. "Learners who have gained fluency can go places as they exude confidence and tackling the world and any other issues," he added. He said they place emphasis on the culture of reading in learning hence the books would enable teachers to engage pupils in reading corners or libraries.