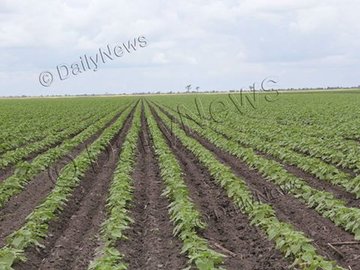 The assistant minister noted that times were gone when agriculture was a subsistence way of life, adding that it was crucial for farmers to adapt new technologies that would see them taking the sector into a commercial level so that they could realise the benefits. "Making use of the new technologies, you will be able to realise the full potential the sector has in terms of returns," he said. The government, through the ministry of agriculture, made a commitment to assist farmers to realise the mission of commercialising the sector, he added. "It is through this mandate that the ministry advocates for the use of fertilisers, hybrid seeds, weed and pests control, moisture conservation techniques and row planting," he said.
Assistant Minister Molao further added that their intended goal would only be achievable if all stakeholders came together to pull in one direction since by doing so they would be able to make measurable efforts in changing ways of farming in the country. The assistant minister urged all Batswana to take advantage of programmes such as ISPAAD and LIMID to grow the sector and improve the livelihoods. This, he said, would help the government to feed the nation and reduce the food import bill, which accounted for almost P80 billion on imported food.
The host farmer, Mr Linga, appreciated the government's efforts of subsidising emerging farmers with 35 per cent discount offered on fertilisers through the ISPAAD programme. Having ploughed 150 hectors, he noted that his crops withstood the heat because of the fertiliser he applied after the heat wave that occurred around the months of January and February.
With the much needed support from the government, he said, the sector had potential to add to the economy while at the same time feeding the nation. In addition, he noted that from his 15 years of experience in crop farming, rainfall in the country had never been consistent and as such it was one factor, which as a farmer, he had learnt to live with and would encourage other farmers not to be discouraged by such a factor but continue to make strides in commercial farming.