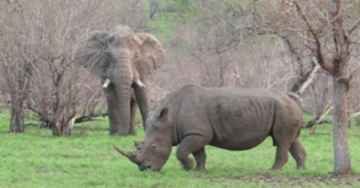 Over the past 12 months, the partnership has managed to move no less than 1% of the total global population of this highly threatened species into a safe haven in Botswana's Okavango Delta.
"Such a complex operation requires an enormous amount of planning, paperwork, extraordinary partnerships and untiring efforts of a wide range of people. In particular, the high level of cooperation between the Botswana Government and those of the South African provinces (Limpopo, North-West and Mpumalanga), as well as the Zimbabwe Government, has made this chapter of our 15-year-long Botswana Rhino Conservation Project a tremendous success, of which the entire conservation community and the nation of Botswana can be extremely proud", says Wilderness Safaris Environmental Manager, and National Rhino Coordinator for Botswana, Map Ives.
The last in a series of no fewer than eight international relocations took place during May and June this year, with rhino sourced from five locations in South Africa and Zimbabwe safely transported to Botswana in a Hercules C130 aircraft.
In an unprecedented gesture of state and private sector collaboration, the aircraft, along with expert crew, was provided by the Botswana Defence Force. The project also stands out in terms of the proactive roles the various Governments have played in ensuring its success. A number of the black rhino were donated by the Malilangwe Trust in Zimbabwe's lowveld, following discussions between the two Ministers of Environment – the Honourable Saviour Kasukuwere from Zimbabwe and the Honourable Tshekedi Khama in Botswana.
The result is that the project has the enormous responsibility of constant monitoring and protection of what is now a population of continental significance. This important work continues to be undertaken by Wilderness Safaris' Rhino Monitoring Officers, the Botswana Defence Force and the Department of Wildlife and National Parks' specialised Anti-Poaching Unit. "Knowing that we are dealing with living animals that are so rare and precious and which have been entrusted to us creates a sense of stress and urgency in each person, and yet brings about great satisfaction knowing that what you are doing is important for the species itself, as well as humankind", says Ives.
Botswana continues to step up its efforts in the fight against wildlife crime, with the Botswana Defence Force upgrading its Mission Statement to declare the protection of the country's wildlife as its "main mission". Earlier this year, the Minister of Environment, Wildlife and Tourism secured budget from Parliament towards the recruiting, equipping and training of a new 50-man specialist "rhino squad" whose sole duty will be to patrol and protect Botswana rhino, indicating the incredible commitment from the political leadership in Botswana and the security agencies charged with their protection.
"We are extremely thankful for the ongoing support of our partners in the Botswana, South African and Zimbabwean governments and their respective conservation agencies – especially the unheralded efforts of the men on the ground in the Botswana Defence Force and the Wildlife Department's Anti-Poaching Unit.
We also could not have achieved this without our incredible sponsors, from organisations to individuals, who have enabled us to embark on this next phase of the project and ensure its success", says Ives. "From the top down, there has been involvement of our staff and managers, the men and women in the Johannesburg and Maun offices, the 'dusty guys' at the bomas, camp staff, technicians who make sure that everything works… so many unsung people with one goal: to help these black rhinos back to a place where we know they will be safe and succeed."