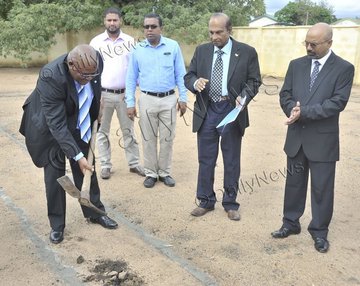 Mr Molatlhegi was giving a key note address during a ground breaking ceremony of the Urban Customary Kgotla shelter, where he also kickstarted the ground breaking of the proposed construction. When reiterating the importance of the kgotla in the Setswana setup, he said the kgotla serves as a historic central place where a community or tribe meets to discuss issues affecting or advancing their territory's development status.
"It is a place where democracy manifests itself in the form of consultation and public participation from both the government and the governed. The kgotla serves as a neutral place where customary law is implemented and justice is served," he stated. Mr Molatlhegi said alghough the Urban Customary Kgotla was the first urban kgotla to exist in the city of Gaborone, it still remained the longest without a shelter. "Owing to serious budgetary constraints throughout the years, even with the advent of the Ipelegeng programme, this project never kicked off but will from today finally see the light of day thanks to the generosity of the Honorary Consulate of the Democratic Socialist Republic of Sri Lanka," he expressed. Mr Molatlhegi implored the community and others out there to also return the favour and emulate the Sri Lankans and assist Botswana and Batswana in projects of this nature in future.
For his part, the Honorary Consul of Sri Lanka in Botswana, Mr Chula Dihanayake said the Kgotla project was a flagship programme as historically it represented the democratic way of life that existed in Botswana before. "It is the network of kgotlas that provide the foundation of the people's democracy . He said the kgotla shelter was sponsored by the Sri Lankan community in Botswana and constructed under the auspices of the Honorary Consulate, adding that the project is expected to be completed on April 20 .
"Sri Lankans have contributed to several community projects aimed at assisting small business entrepreneurs, youth businesses and youth and children in this area through our social outreach programme, Thusang Banana programme and Bana ba Botswana Trust," he said. (BOPA)