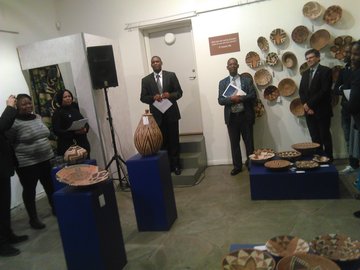 1. On behalf of the Botswana Embassy and my own behalf, it is a pleasure to be amongst you this afternoon on the occasion of the launch of the month long exhibition of the Ngamiland Baskets.
2. To my compatriots, for you agreeing to leave your families in Botswana to brace the cold weather of Sweden to make this memorable event a possibility, I say thank you. This indeed is indicative that you are keen to ensure that your culture, your talents do not disappear from our natural heritage. You transversed borders to make sure of that.
3. I must therefore hasten to congratulate the Hultsfreds Kommun, Just Africa and other stakeholders for having made this day possible.
4. Special thanks goes to Hultsfreds Kommun because we are here as a result of the excellent cooperation between the Hultsfreds Municipality and the North West District Council in Botswana. This relationship reignited a spirit of cultural self realization among the people of North West District including the Ngamiland.
5. This project started 3 years ago funded by SIDA and today marks its final lag as it is coming to an end culminated by this exhibition. Its aim was local economic development and poverty alleviation through capacity building in the informal sector. An objective the project made tremendous strides to achieving.
6. It trained people in the Maun and Gumare areas in business skills, bookkeeping, marketing and environmental skills and many others.
7. it's a project which went beyond the traditional donor - recipient relationship as it forged a strategic partnership with the Botswana's North West District
8. I wish to seize this opportunity on behalf of the government and people of Botswana, to express Botswana's profound gratitude and appreciation to Sweden for the development assistance she has availed to us over the years.
9. This, distinguished guests, has assisted us in our development efforts.
10. Basketry had always been an important part of everyday life in Botswana, particularly within the agricultural sector. It has generally been dominated by women, a trend that has continued to today.
11. Basketry is one of the most ancient human crafts but still very much relevant in todays modern times. This is a cultural phenomenon that has stood the test of time.
12. It provides an important element of identity to the human race and assists humanity to understand better the environment that they interact with. The designs are a whole complex of distinctive, spiritual, material, intellectual and emotional features that characterize a society.
13. In making sure that talents like this one do not get lost, the Government introduced the National Policy on Culture as well as the Economic Diversification Drive; encouraging communities to hold cultural festivals to make sure their cultures are known and celebrated by other communities. Beyond celebrating and appreciating culture, provide opportunities of making business and forming partnerships.
14.This exhibition theme speaks to that desire, 'Ngamiland Basket - our livelihood - our heritage - our pride'
15. It resonates well with our government fundamental goal of poverty eradication, which its paramount imperative goal is dignity for all.
16.I would like to implore all of you to enjoy yourselves and feast your eyes on the natural beauty from Ngamiland. I hope you will invite friends to come and view the exhibition and of course, purchase some artworks. The exhibition will be on until Dec 2014.
17. Ladies and gentleman, I hereby declare the exhibition officially opened.