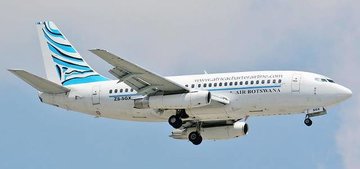 "The new code-share agreement allows Qatar Airways business and leisure travellers fast and convenient access to the home of Botswana's rich mineral industry," he said.Lt Gen. Masire said 'it is something to celebrate considering that Qatar is a big airliner while Air Botswana is just a small African airliner and being accepted as a partner means a lot to us.'Lt Gen. Masire said Botswana's luxurious tourism experiences compliment Qatar Airways ultra-modern fleet of aircraft, featuring the world's best business class on services to South Africa.He described Qatar Airways as one of the fastest growing airlines operating one of the youngest fleets in the world.
For her part, Air Botswana acting general manager, Ms Agnes Khunwana said although it had been a lengthy process to secure the deal, Air Botswana stood to reap a lot of benefits from the partnership.Ms Khunwana said since Qatar Airways had developed IT and infrastructure, Air Botswana's three routes would be added to Qatar's network, which has over 150 destinations."For instance, when you book a flight to Maun, a person will be able to do that through Qatar Airways, while Air Botswana will do the link between Johannesburg and Maun," explained Ms Khunwana.She stated the deal would give Air Botswana more accessibility to Qatar's clients from all over the world through their network. She said because through it, now they would be able to access clients that they could have not been able to find in their current systems.
Ms Khunwana said Air Botswana availed itself to Qatar for such partnership, a way in which small airlines engage in efforts to grow their airliners.He also explained that for them it was a significant milestone. "We are very excited about the development. It is our biggest partnership to date, it means a lot for Air Botswana and a confidence booster for us to partner with one of the biggest airliner in the world.