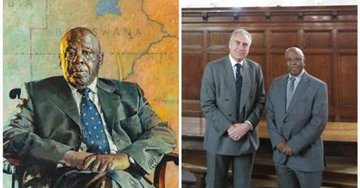 He currently serves as Special Envoy of the United Nations Secretary-General on Climate Change. He is also a trustee of The Rhodes Trust. In 2010, he joined the advisory board of U.S. nonprofit TeachAIDS. The painting is by artist David Cobley.The meeting was attended by the Permanent Secretary at the Ministry of Transport & Communications in Botswana Mr. Neil Fitt and the Acting Permanent Secretary of the Ministry of Works & Supply in Zambia Mr. Joe Kapembwa, including Heads of the Implementing Agencies from both countries.
According to a report presented by the two Permanent Secretaries, construction of a temporary bridge on the Zambian side has been completed while on the Botswana side it is expected to be completed in June 2016. Construction of the permanent bridge on the Zambian side has also commenced.
Construction of Engineers offices and accommodation has also progressed with some of the offices already occupied by some staff from the project team and client.
Further to the report a total of 476 people who include expatriates and local people from Botswana and Zambia have been employed.The construction of the Kazunugla Bridge is a bilateral initiative between Botswana and Zambia which commenced on December 5, 2014, at a contract sum of US$ 233,529,888.42million. The project is aligned to the SADC North-South corridor and is located at the border between Botswana and Zambia on the Zambezi River at Kazungula.
Package 1 of the project comprises the construction of a 923-m long by 18.5m wide rail/road bridge, while Package 2involves construction of One stop border post facilities and ramps on the Botswana side and Package 3 involves One stop border post facilities and ramps on the Zambian side.The Project is funded by loans from the Japan International Cooperation Agency (JICA) and African Development Bank (AfDB), and contributions from both the Governments of Botswana and Zambia.
Package 1 started in December 2014 and is expected to be completed in December 2018. Commencement of Package 2 is expected this month while Package 3 is expected to commence in May 2016.The Bridge is of strategic importance to the economic integration of, not only Botswana and Zambia, but the SADC Region as a whole. The Bridge will provide the much-needed connection between the regional economic areas, and will also link regional ports which handle all exports and imports from and through Botswana and Zambia. The construction of the Kazungula Bridge will also address the challenges imposed by the existing ferry service, which is a major bottleneck to trade and smooth flow of people, goods and services.