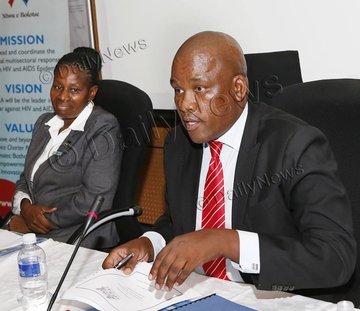 Dr Madigele said approved funds are in excess of the original pre-allocated amount of US$28.7 million which he said was increased in line with the country's needs, and additional meritorious justifications, which are allowable within the Global Fund rules. Dr Madigele was delivering opening remarks at the first National Aids Council (NAC) meeting in 2016 on behalf of Vice President Mr Mokgweetsi Masisi, who is also NAC chairperson.
Dr Madigele said of the approved total grant, US$5 128 153 has been allocated to the Malaria programme, whereas US$27 043 807 is to cover a combined TB/HIV effort. The minister said the overall goals of the grants are to achieve zero local malaria transmission or the elimination of malaria, to prevent new HIV infections, reduce morbidity and mortality as well as to enhance the psychosocial support and reduce economic impact associated with TB for the duration of the grant, which spans from 2016 to 2018. He said as the world moves to end AIDS, Botswana should also be seen to be acting towards the global goal to fast track targets set for 2020 referred to as the 90-90-90 targets as the key precursor to the path towards ending AIDS by 2030.
Dr Madigele urged council members to reflect on the recent budget speech where the Ministry of Health got 15.5 per cent of the national budget. He said the allocation shows that the government continues to prioritise the health sector, HIV/AIDS included. On other issues, he said the government has resolved to relocate NACA to the Ministry of Health for strategic purposes.
He said the move has caused speculation to the effect that NACAS is about to be dissolved. He said NACA and its functions will remain in place to coordinate and manage the country's response to HIV/AIDS under the Ministry of Health.
He said consultations are ongoing to address the duplication of roles between NACA and the Ministry of Health, with a strong possibility to further expand the mandate of NACA to cover other critical need areas.