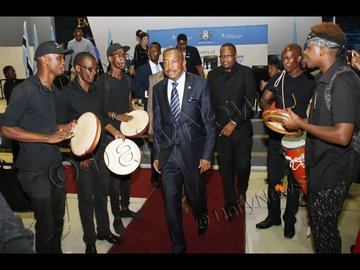 The Minister said regulatory structures were a crucial aspect to the development of the sector. "Since the arts council has not yet been established, we are currently working directly with different arts associations," he said. He said he believed that the creative industry had a huge potential to diversify the economy, stating that it could create jobs and eliminate poverty.
Minister Olopeng said the development had been overdue. He explained that his ministry was responsible for establishment of the Botswana National Sports Commission (BNSC) and the Botswana National Youth Council (BNYC), adding that the need to establish an arts and culture council was equally important.
He said his ministry had engaged the Attorney General Chambers to look into drafting a bill, which will be presented to Parliament. He explained that the council would help the ministry manage the industry and serve it well. "This is one of the best sectors that my ministry have that can actually turn the economy around and empower Batswana and most young people," he said.
Olopeng praised Botswana for sustaining themselves through their talents. He further said his ministry was working on establishing a recording studio at the Mass Media Complex. The studio would provide recording opportunities for artists with limited resources.
Olopeng promised that the new Botswana Television 2 will be functional in two months. He encouraged artists to produce relevant programmes for the station. (BOPA)